Contact Leimkuehler
We have three offices conveniently located throughout the Cleveland metro area all with their own parking lots and easy accessible entry.
The Main Office in Cleveland is on the near west side only 45 blocks (5 minutes) from the center of Cleveland.
We are 10 minutes from I-71, I-77 and only about 6 minutes from I-90. Cleveland Hopkins International Airport is a short 17 minute drive.
The East Office in Lyndhurst is just 2 miles from I-271 on the east side of Cleveland.
Our South Office in North Royalton is Halfway between I-71 and I-77 very close to I-80, the Ohio Turnpike.
We are privileged to serve some of the best hospital systems in the world including the Cleveland Clinic, University Hospitals, MetroHealth Systems and St. Vincent Charity Medical Center.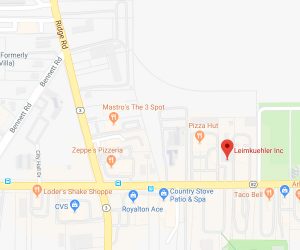 South Office
6478 Royalton Road
North Royalton, Ohio 44133
(440) 582-8000
FAX: (440) 582-0831
Email   |   View Map    |  Leave a Review